The power & wisdom of the wombs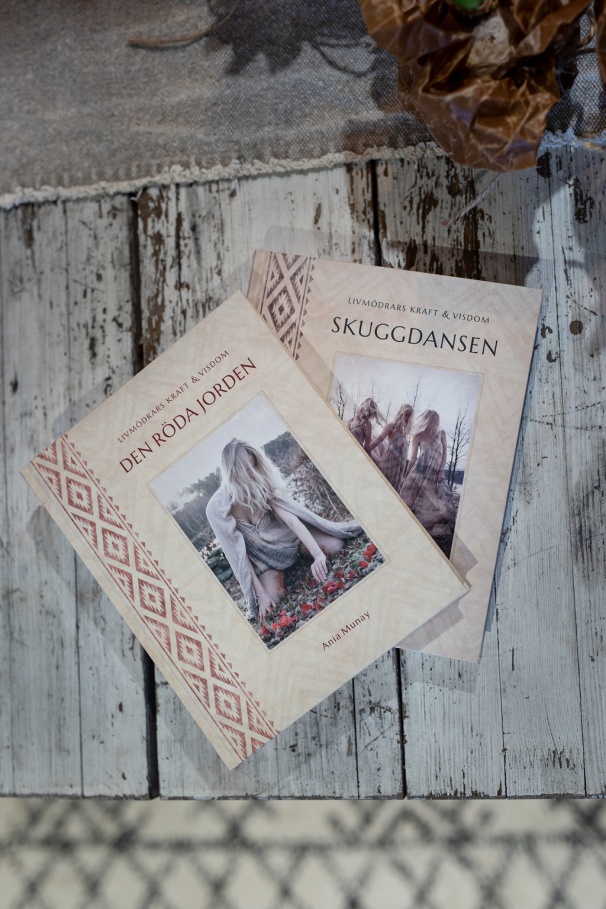 Follow Ania Munay's healing journey out into the world and the journey into and home to herself. It is not the easy path she has chosen when she stepped into earthly life this time. The path she walks is anything but straight, but it is her true path and it inspires you to start looking into your own inner life.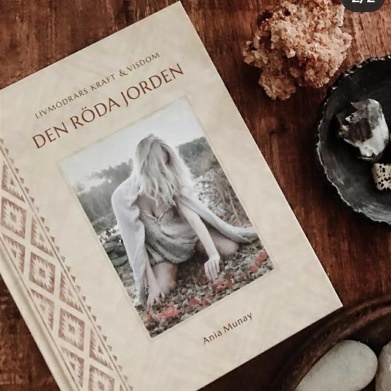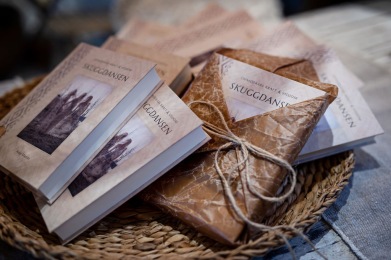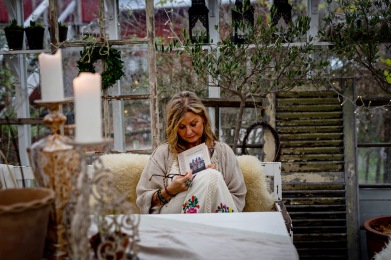 The red soil is an autobiographical novel, where the shaman and medicine woman Ania Munay takes you as a reader on the dizzying journey out into the world and in parallel the journey into and out of herself.

The Red Soil is Ania Munay's author debut and the first part of the trilogy about The Power & Wisdom of the Wombs. Here, her personal longing for and struggle for love and children is woven together with her growing into a spiritual reality through lucid dreams and out-of-body experiences. This is a real turnaround that you are swallowed up in, with passionate love encounters, everyday struggles, betrayal, strong spiritual initiations, magical encounters and insights that can inspire you to transformation in your own life .....

(soon available in english)
The shadow dance is the second part of Ania Munay's autobiographical trilogy The Power & Wisdom of the wombs.

The main character Ania continues her struggle to bring together everyday life as a single mother and entrepreneur with spiritual development and personal growth. The longing for true love for her on a journey deeper and deeper into her own darkness where she is forced to face the shadows of the closed. She undergoes powerful initiations and the spirit world confronts her with challenges that do not bring peace until she accepts her fate.

The Shadow Dance is a powerful novel that takes you on an inner and outer journey through time and space. In a magical, naked and vulnerable way, Ania takes you as a reader on the journey and guides you into the great mystery. Back to the Goddess in you. She who knows and carries the knowledge of life, death and rebirth.


(soon available in english)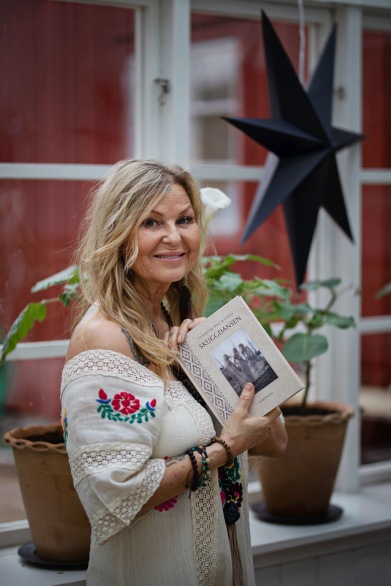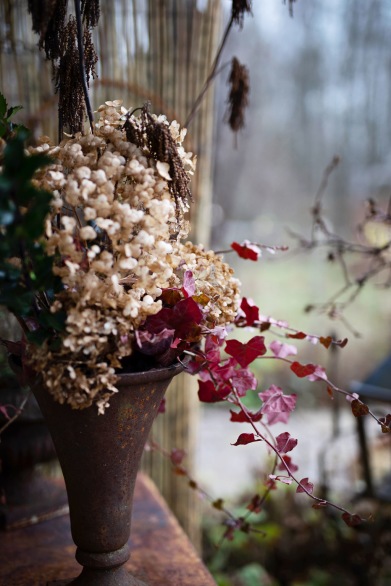 Ania Munay, practicing shaman and medical woman, runs together with her husband Gaia Life course yard, outside Gothenburg. With more than 30 years of experience in spiritual development and healing, she today educates and guides others to tell their whole story and live their dream.

Ania Munay has an unusual business card. It says "shaman and medicine woman". Ania is a pioneer in new age. For sixteen years she ran Lotusgården, a doctor's office in Kungsbacka where complementary care was combined with traditional medical care and she worked with companies, municipalities and county councils. Now she makes her debut with the first part of the trilogy about The Power and Wisdom of the Wombs.

It is high time for the feminine force to come back, says Ania Munay. We are in the time now, when many truths need to come to light. We have been silent for far too long.

Ania was born in 1959 and grew up in a working family at Hisingen in Gothenburg. She is a trained CBT and family therapist. Has two daughters and five grandchildren. Together with her husband, she currently runs Gaia Life course yard in Fjärås. There they hold trainings, retreats, ceremonies and healing trips to different places in the world based on the shamanic approach.

As a child, Ania was highly sensitive. Growing up in a dysfunctional family, everyday life was filled with anxiety, addiction, co-dependence, mental and physical abuse. With severe traumatic events in her luggage, at the age of thirty she was diagnosed with post-traumatic stress disorder, fatigue syndrome and panic disorder.
​
I chose not to step into the traditional healthcare where only psychotropic drugs were available. Instead, I learned to use my sensitivity, my clear vision, and my healing abilities.
​
With her autobiographical book The Red Earth, she wants to inspire and empower other people to take responsibility for their own lives and healing.
​
In the big picture, it has to do with society, with the environment and to create peace on earth. We need to come to the realization that peace cannot be created in the outside world as long as we have chaos, war and conflict within ourselves. Each of us needs to do our inner work for the sake of future generations.

The book weaves her personal longing for and struggle for love and children, together with her growing into a spiritual reality through lucid dreams and out-of-body experiences. Passionate love encounters, everyday struggles and betrayal are mixed with strong spiritual initiations, magical encounters and insights, which she hopes will inspire the reader to transformation in her own life.

​I want to show that there is more than we can see with the naked eye, that spirituality is an important part of human health and well-being in life.

With my story, I want to give the reader insight that we know our whole story, heal our wounds and change our patterns.

You never get more than you can handle.

No matter how devilish your story looks, there is something beautiful in it!
I read the first pages and feel how my heart starts beating faster in my chest. It sucks in the stomach, the magic spreads in the air and there is no seat belt. Now it's going off. Ania Munay's autobiographical book "The Red Soil" is the first part of the trilogy about the power & wisdom of the womb. It takes me on an inward and downward journey. In a vulnerable, naked and powerful way, she shares her story through destructive co-dependence, great love and spiritual initiations.

Reading this book was a healing experience for me and I cried several times in recognition. I think that's the most magical thing about this book; it reflects us. It illuminates our own lives and makes us even more aware of our behaviors, but also our magic and inherent strength. Ania writes in a naturally flowing way that invites reflection and to open our eyes, meet the darkness that we have pushed away and bring home the power that lies ahead.

The book is a catalyst for spiritual transformation. It reminds us that life is a journey that constantly gives us the initiations we need to wake up and let go of the illusions that hold us captive. It is a journey that needs to take place without a seat belt. Many times we need to jump straight into nothingness to gain access to the great mystery, love and light. Are you ready?
Fia
The book I have read in recent days arouses deep gratitude and reverence. Before life and before the path we walk here on earth. It activates energies from other dimensions and creates reflection, togetherness and humility ... we all choose our path ....

You have not chosen an easy path on earth, and gained much knowledge the hard way. But I am so deeply grateful that you now had the courage to share your story and your knowledge with others through the book

You as a reader are taken on a journey, Ania's journey, but also your own journey into yourself and your own power and healed if you are ready ... I wish you a deep and nice reading experience. I wholeheartedly recommend the book "The Red Soil" by Ania Munay (the first of three).
Emelie
I want to thank you for opening up in such an open and brutally honest way. Reading about your relationships, your co-dependence, your wounds, patterns and trauma makes the air feel a little easier to breathe. The world suddenly becomes a little more permissive and I can feel so much more love for myself and all those around me. Being able to take part in your story means that I also remember mine, feelings of guilt and shame come to light and it is so nice and fantastic to feel that someone else has also gone through the same feelings. So thank you for that!
Sandra